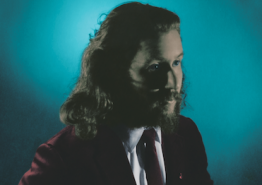 11/12/2012
"I wanted the album to sound like it came from a different place in time," says James. "Perhaps sounding as if it were the past of the future, if that makes any sense—like a hazy dream that a fully-realized android or humanoid capable of thought might have when it reminisces about the good old days of just being a simple robot."
"I take walks a lot," says Jim James, "and as I walk, songs kind of build in my mind, and I start adding and subtracting things. So I had a full vision for a lot of the songs on this album before I even recorded one note." These visions have now manifested as Regions and Light and Sound of God, the first solo album from the singer, songwriter, and guitarist for My Morning Jacket, which is set to be released February 5th on ATO Records. Over the course of fifteen years and six studio albums, James has been the focal point of a group that has grown into one of the most acclaimed and successful rock and roll bands in the world. With this project, he reaches into new territory that extends, but doesn't break from, MMJ's accomplishments.

Until now, James had never felt the call to create a longer-form album on his own. "I'm very lucky to play in a band with guys that I love, who are great at what they do," he says, "so on MMJ records, I don't have a need to play bass or keys or what have you. But as a person and as a musician, I love to play every instrument under the sun, and I wanted to make a record where I played all the instruments and produced/engineered it myself."
For Regions of Light and Sound of God, there was one specific source that shaped many of the songs, and even figures into the album title—a pioneering 1929 graphic novel called God's Man, by Lynd Ward. Told entirely through wordless woodcuts, the book chronicles an artist's struggle with temptation and corruption, along with finding true love. As work on the album proceeded, James was inspired to write music that could accompany the book. "God's Man came to me at a very important time," he says. "Some of the things happening in the book were happening to me in real life, in a very strange and painful, then a very beautiful way."

Solo albums by members of bands, especially lead singers, can often be scattershot, collections of odds and ends built up over the years with no true sense of purpose. But Regions of Light and Sound of God is precisely the opposite—the clarity with which Jim James came into this album rings from first note to last.

"The album knew what it wanted to be," says James. "The songs would tell me what they wanted to be, and I just had to search around and find those sounds to bring them into this world."
Pre-order Regions of Light and Sound of God here.