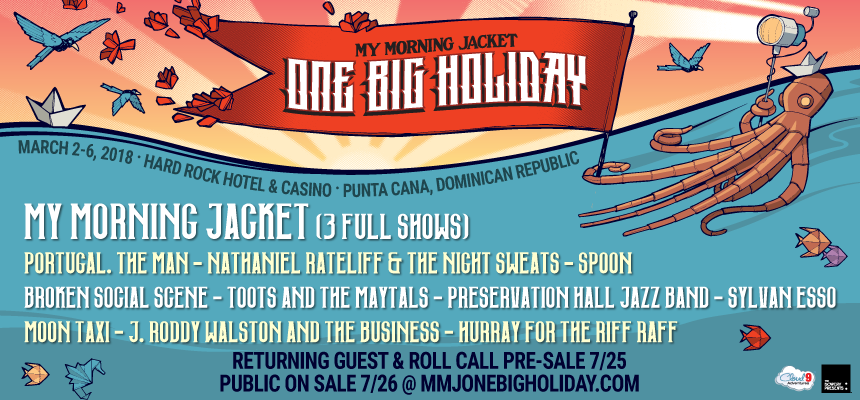 My Morning Jacket's One Big Holiday
My Morning Jacket is heading to the Hard Rock Hotel & Casino Punta Cana in the beautiful Dominican Republic for the fourth annual of One Big Holiday! Join an incredible lineup of musicians for the ultimate fan experience with the amenities of an all-inclusive resort during this tropical concert vacation, March 2-6, 2018. 

Roll Call Members that previously attended One Big Holiday in 2014, 2015, and/or 2017 will receive priority booking times based on their trip history. Roll Call Members who have never attended the event have the opportunity to reserve a room prior to the event going on sale to the public by opting-in to the Pre-sale HERE before 12pm ET on July 21st.
IF YOU HAVE PREVIOUSLY ATTENDED ONE BIG HOLIDAY DO NOT OPT IN again or it will duplicate your account and you may lose your trip history and priority booking time.


Roll Call Members who have attended One Big Holiday and Roll Call Members that opt-in for the One Big Holiday 2018 Pre-sale will receive an email with a unique password that will grant them to access the Pre-sale on July 25th.


PLEASE NOTE: There are more Pre-sale Passwords than rooms available. Opting-in to the Pre-sale does not guarantee you a room at One Big Holiday. Pre-sale Passwords are non-transferable and can only be redeemed by the password holder during the Pre-sale on July 25th.


You will not need a password for the Public On Sale on July 26, 2017 at 12pm ET (If any rooms remain after the Pre-sale).
Key Points:
You will receive an email by July 24th indicating your unique Pre-sale Password, assigned booking time, and direction on how to book.
Only ONE Pre-sale Password is needed to book. If you have a party of two or four staying together in a room, only ONE Password is needed. If you already know who your roommate will be, only ONE of you should opt-in.
Assigned booking times will be issued to Roll Call Members in the order in which their opt-in form was received.
Opting-in to the Pre-sale does not guarantee you a room at the event. There may be more Passwords than rooms available, so don't hesitate to book during the Pre-sale.
If you have any questions about My Morning Jacket One Big Holiday or the booking process, please contact the Cloud 9 Adventures Travel Team. For questions about Roll Call Memberships, please contact Wonderful Union Fan Support.

Complete One Big Holiday info can be found here.

If you're not already a Roll Call member, the Public On Sale will take place July 26.